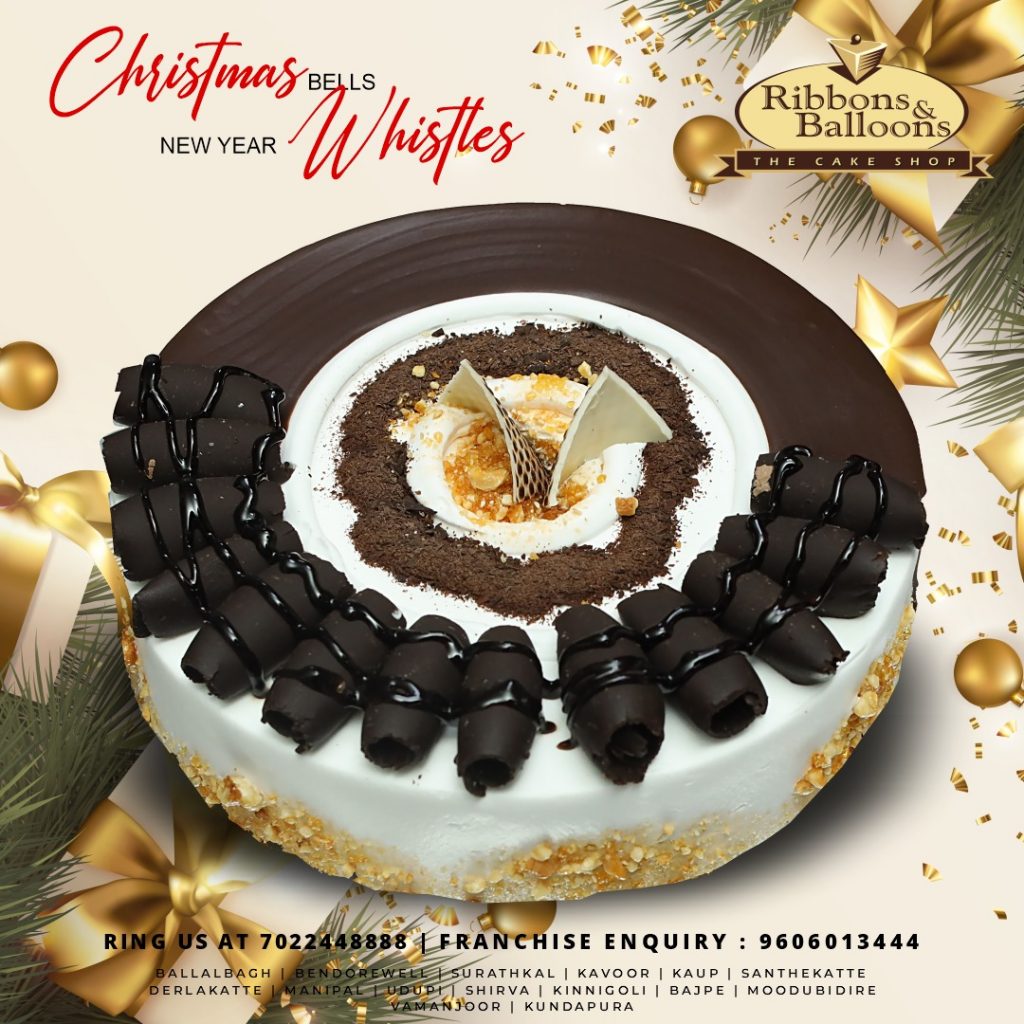 It's Christmas! And weddings on the cards! 'Ribbons and Balloons' is now in Carnival mode!
Mangalore : This coastal city which is also known as the 'Rome of East' has a great tradition of Christmas cakes. Thanks to the Ribbons and Balloons, the coast's favourite chain of cake shops, every town from Thokkuttu to Kundapur in Dakshina Kannada and Udupi districts will have their own 'Carnival zone'. Step into any of the 20 outlets of Ribbons and Balloons you will see the reason!
This is also the season for tingling of wedding bells! So all those who are planning for a great looking wedding cake must-visit Ribbons and Balloons outlets in their towns.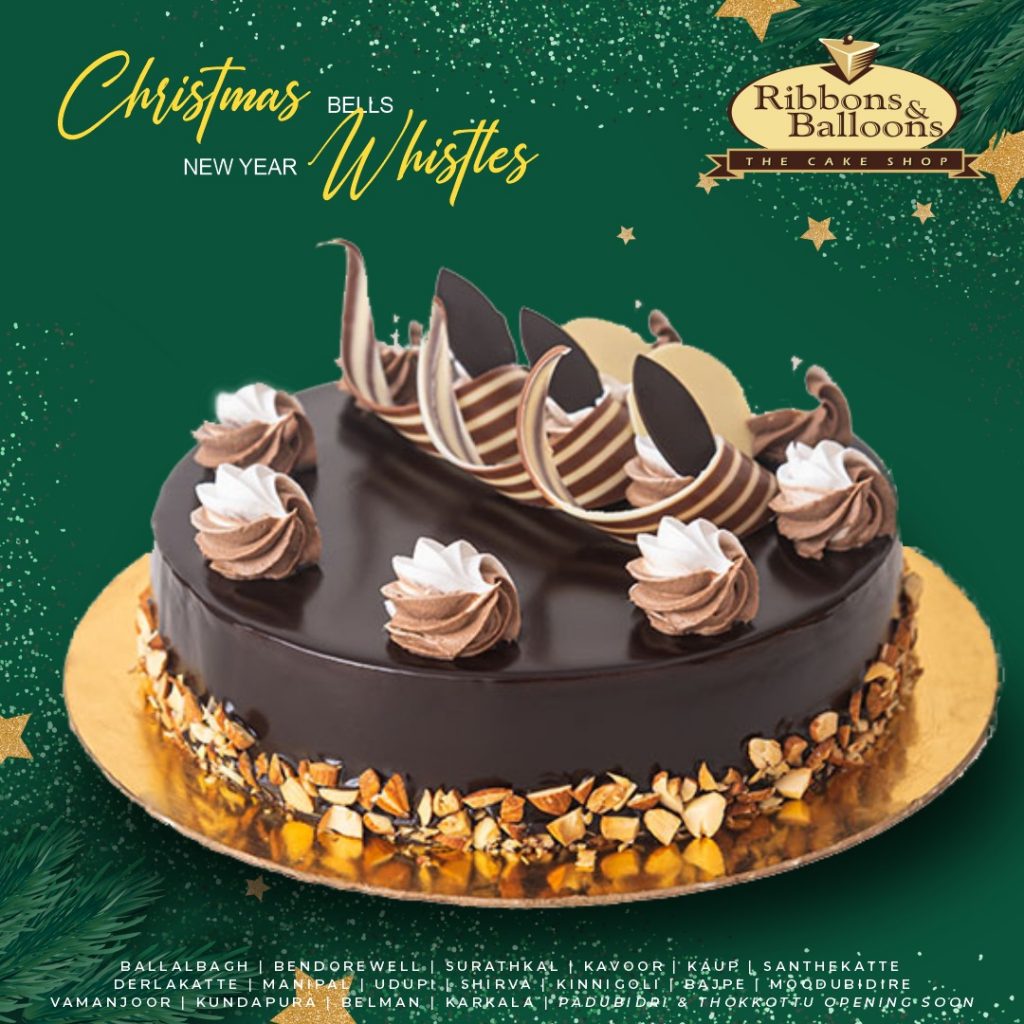 But before going into the finer details, let us know about the carnival. Needless to say, the outlets' decorum will amply make a statement on the festive mood, as it had always been on every occasion in the past. This will be the longest Carnival on Christmas theme and there are more reasons than a handful for you to be there and be blessed with goodies, gifts and grand prizes. The Christmas Carnival will begin on 1 December and will go on for the entire month of December till 31 which definitely makes it the longest Christmas Carnival of the coast and it is meaningfully entitled 'Shop and Win'. But come to think of it, at Ribbons and Balloons you are always a winner, you get the best cakes, best quality assured, best value for money and you shop for your cake and bakes at a shop that has an international ambience
Seven reasons to be there at the Christmas Carnival!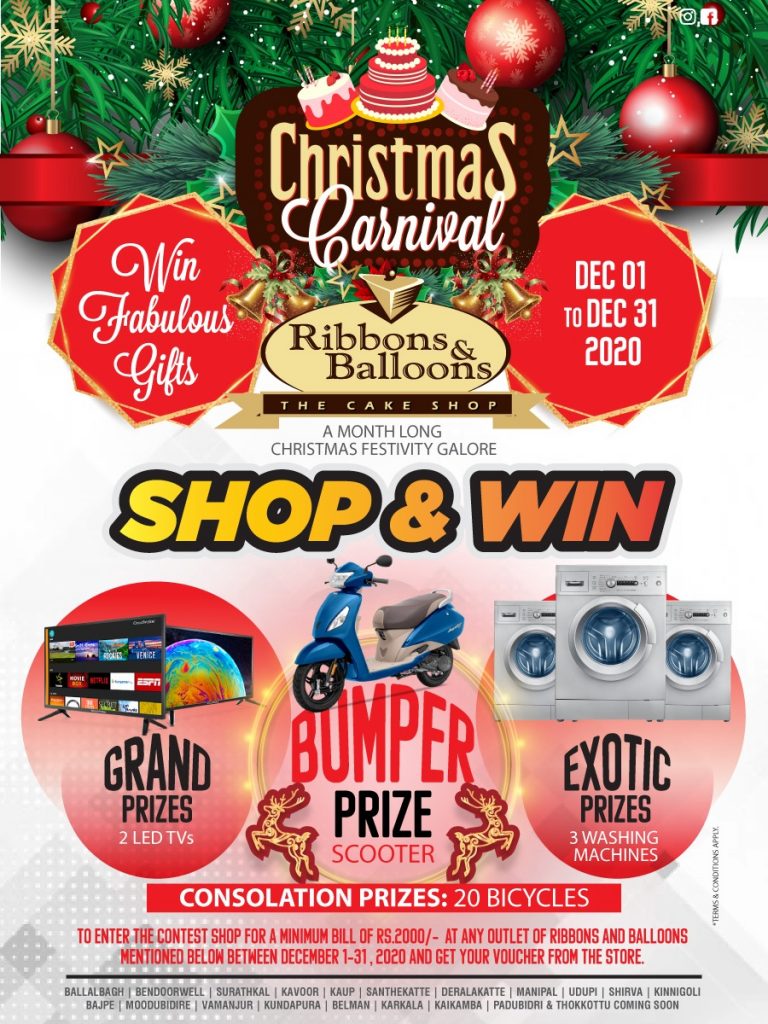 The reasons for you to be there are many, but knowing the core capacity of the Ribbons and Balloons and their penchant for perfection and elan there are seven reasons for you to partake in the Christmas carnival! Firstly when you are finished with your shopping you will be given a voucher with your own unique number which you will deposit in the box kept for the reason this is applicable for both on-site (in the store) purchases and for those online. Secondly, the range of prizes and gifts will surprise you. There are 20 consolation prizes of bicycles to be won preceded by two LED Televisions and three Washing machines as grand prizes and exotic prizes respectively. And at the top, A TVS Jupiter scooter as a bumper prize, All you have to do is make a purchase of Rs. 2000 in any of the Ribbons and Balloons outlet from Thokkuttu in Dakshina Kannada district to Kundpur in Udupi district. Thirdly as you know already, Ribbons and Balloons has a stringent quality control which is our signature feature. No compromise on quality ingredients, lively decoration and safe delivery.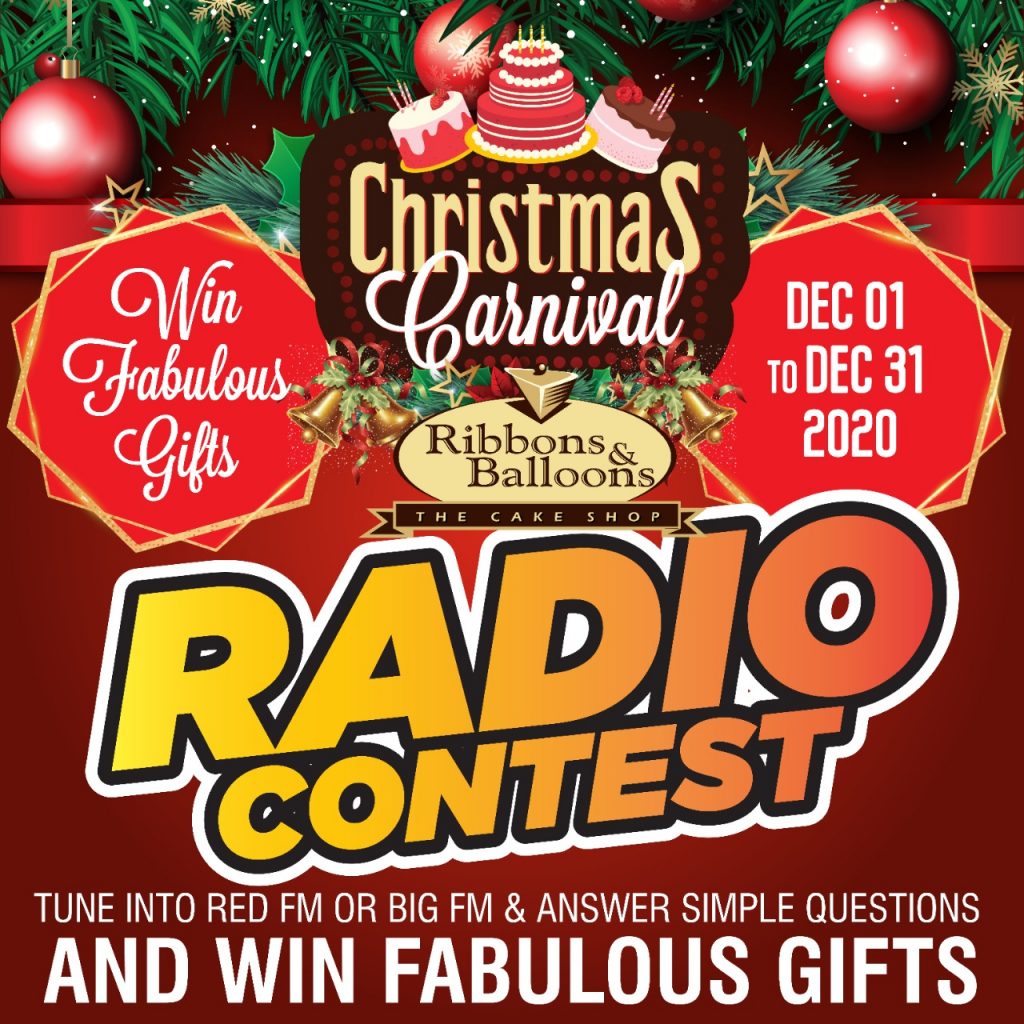 Fourthly you don't have to travel much to get to the Ribbons and Balloons outlet, we are open at 18 places including Ballalbagh, Bendoorwell, Surathkal, Kavoor, Kaup, Santhekatte, Deralakatte, Manipal, Udupi, Shirva, Kinnigoli, Bajpe, Moodubidre, Vamanjoor, Kundapura, Belman, Karkala, Kaikamba. Soon there will be outlets at Padubidri and Thokkuttu also. Fifthly the range of our products are mind-boggling, but in the Christmas, carnival coupled with the wedding season and the coming new year celebrations our stores will be stocked to the brim with all our best goodies which will be the delight of every gourmet! Sixthly our wedding cakes made to order and customised! You will never would have imagined that your imagination of a wedding cake can be so perfectly prepared! And lastly but more importantly our bakers have designed a special cake in the shape of a Christmas tree! Which is unique to us.
Special multi-deck cakes for anniversaries and weddings are a speciality. Despite the great designing, colour combinations, a wide variety of flavours the quality quotient have been kept as the top priority, the taste aroma and composition the three elements that go together in making cakes and pastries at Ribbons and Balloons. Ideally, cakes and pastries from Ribbons and Balloons are the best in Mangaluru city and customers from other cities and towns also have vouched for it.
Ribbons and Balloons are the fastest growing Franchisee chain of Bakeries. 18 stores and 2 in the offing in just three years!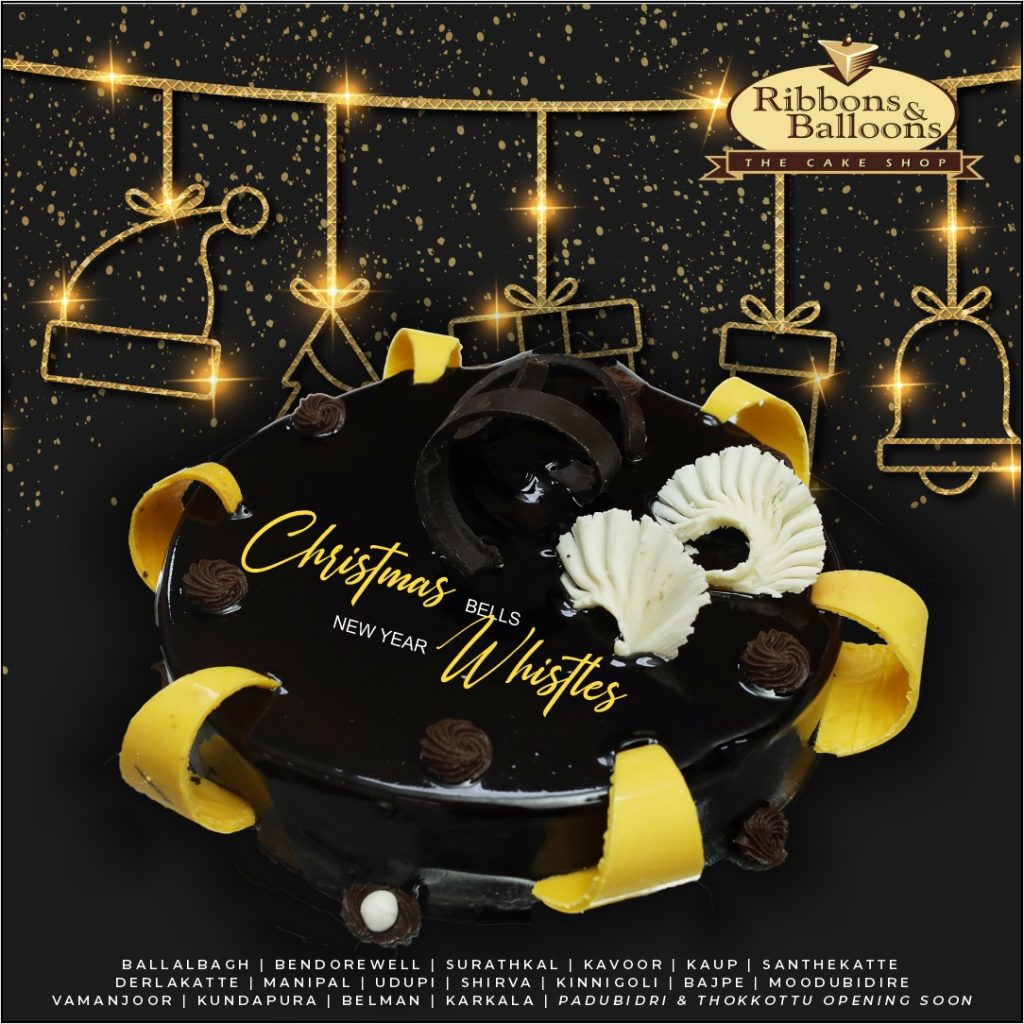 The bakeries of Ribbons and Balloons are undoubtedly the best bakeries. the production unit of Ribbons and Balloons in Mangaluru is the best equipped and has best production practices, hygiene, homogeneity are the watchwords. Every cake and pastry produced here to get the same attention in quality and integration process. There is a range of flavours that gel together in a harmonious blend and give that special effect to the cakes, chefs and bakers at Ribbons and Balloons are masters in integrating these flavours, which is why the gourmets do not tire in complimenting the products of Ribbons and Balloons.
In the Christmas Carnival, the creativeness of the chefs is on overdrive. That is the time when the most delectable cakes come out on the shelves made in chocolate, vanilla, orange cream, fresh cream in tens of different combinations each, red velvet cake and many others make the traditional flavours seem so yesterday!