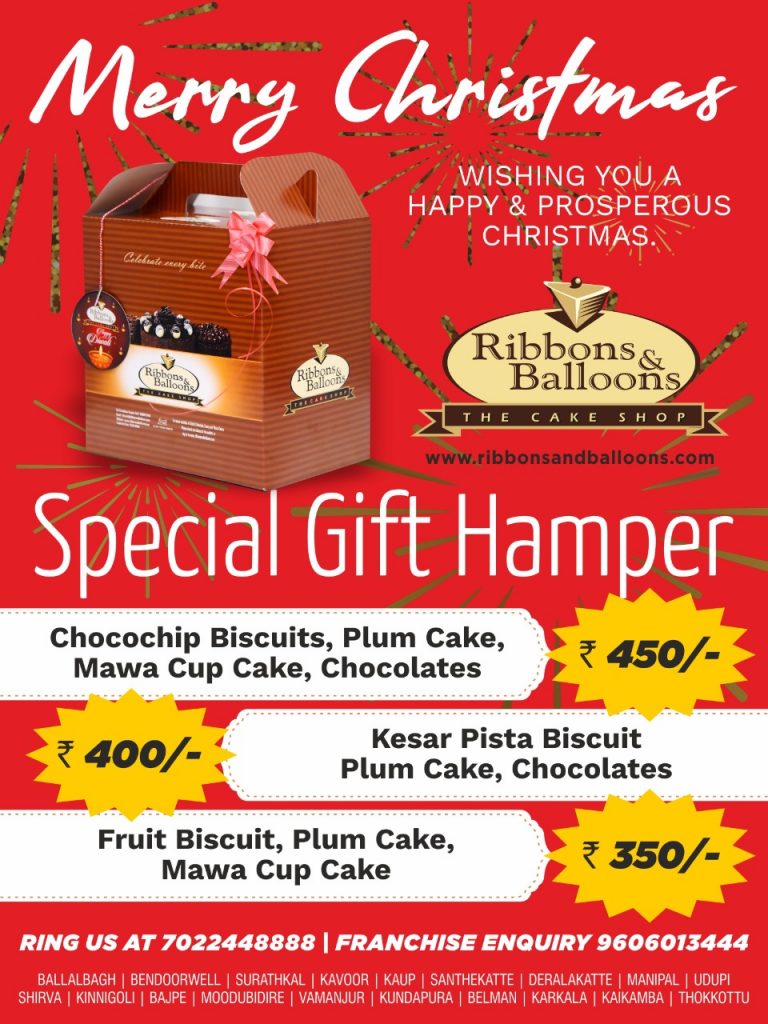 Here comes the Christmas and the New Year again! It is the time to fill your hearts and minds with all the joy and happiness. Birth of the lord, and the arrival of the new year. After all the joy will remain with us till the next season! Which is why the innovative managers of Ribbons and Balloons, Coast's favourite cake shop and bakery have devised the 'Christmas Carnival' coupled with the new year revelry and the wedding season!
And what is more! Every customer is a potential winner! Read through and you will know! Christmas Carnival is one event stretching for one whole month is perhaps the longest organised on the coast if not in the state.
Shop and win contest
Christmas Carnival is made with the cake lovers in mind. It is a bonding event with the gourmets and revellers and those lovebirds. When you enter any of our 18 outlets till December 31 you are both our patrons and a winner in every conceivable way. This is why we have the contest – 'shop and win' lucky draw that will entitle them for winning prizes like LED television sets, Washing Machines and a bumper prize of a scooter in addition to 20 consolation prizes each will carry a bicycle! Each one of the prizes has been selected that will have immense help to you, and all that comes along with the delightful experience of indulging in our extremely good looking, tasty and exotic cakes! Since the Christmas carnival and the shop and win the contest will be over in the next seven days, we urge you to rush to our outlets!
The Ribbons and Balloons have 18 outlets right from the tip of the Dakshina Kannada district to Kundapur in Udupi on two coastal districts of Karnataka and each one has turned into a Carnival zone till December 31.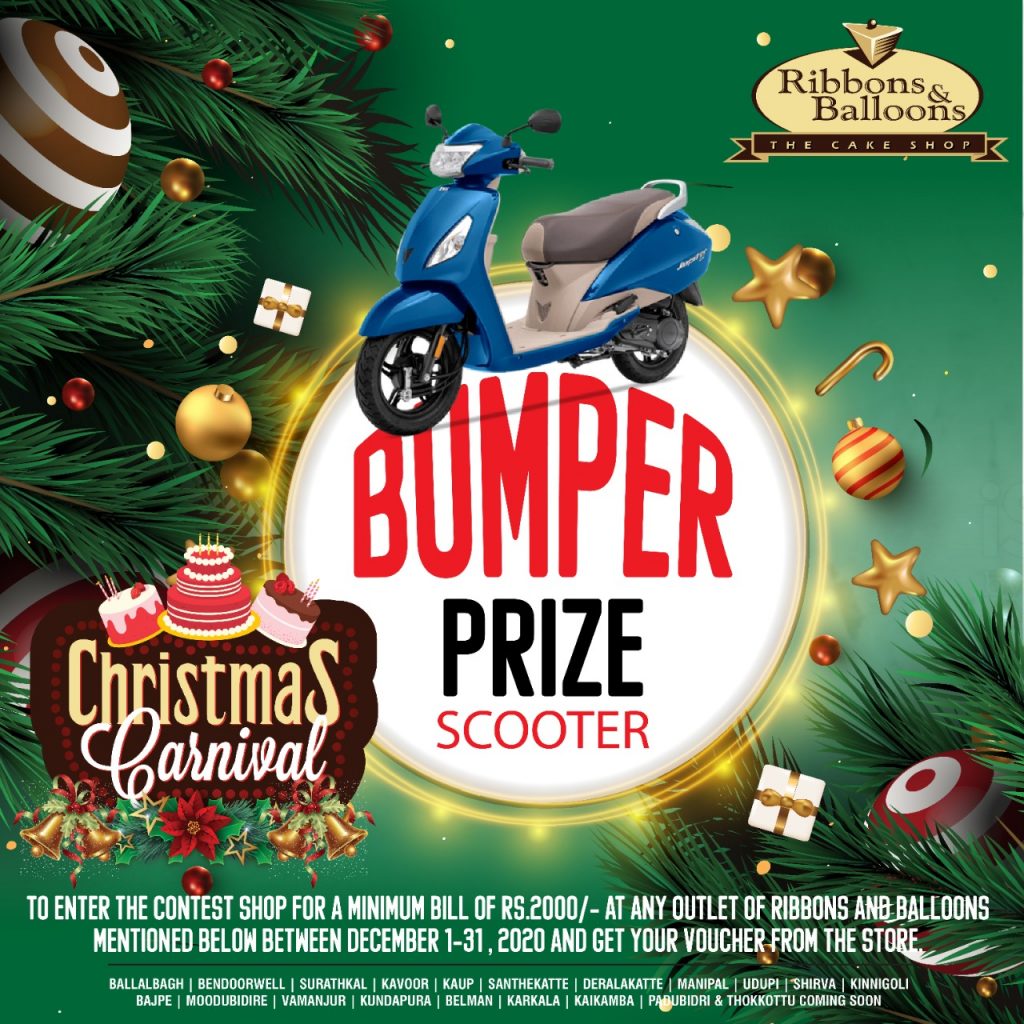 Ringing the wedding bell with a great cake!
The creative chefs and bakers at Ribbons and Balloons take their creative on overdrives when it comes to wedding cakes. It is once in a lifetime event in your life and our chefs will not rest till they make it memorable with their cakes. Their multi-deck cakes with motifs are truly breathtaking. To tell it, in a nutshell, it is a love song written in cream! So far in the last 25 days during the Christmas carnival coupled with Shop and Win contest we were overwhelmed with the response from our patrons, We do not wish many more like them be left out! Trust us, it is a true wishing upon a star! our wedding cakes made to order and customised! You will never have imagined that your imagination of a wedding cake can be so perfectly prepared. Colour combinations of our cakes come from the naturally blended ingredients and the quality that you can feel and taste, a wide variety of flavours the quality quotient have been kept as the top priority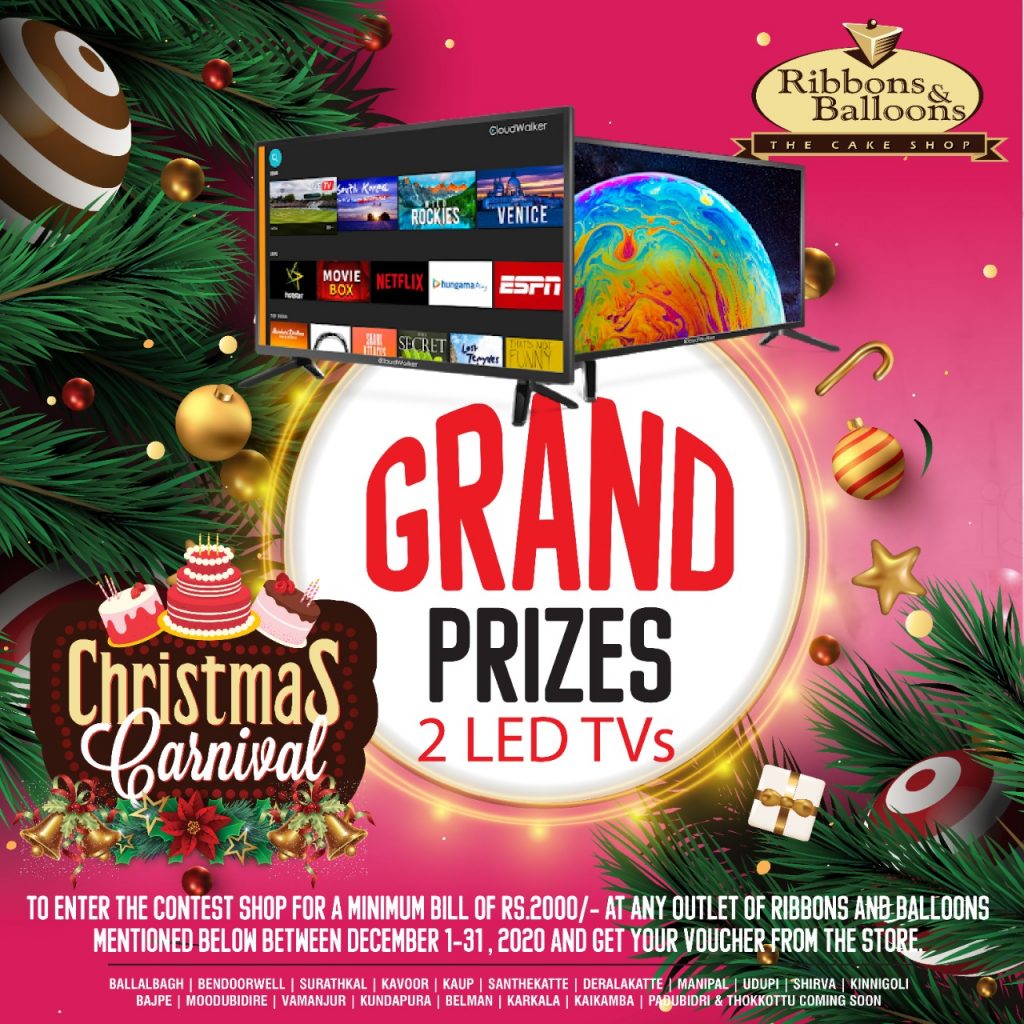 18 Outlets and still growing!
We are open at 18 places including Ballalbagh, Bendoorwell, Surathkal, Kavoor, Kaup, Santhekatte, Deralakatte, Manipal, Udupi, Shirva, Kinnigoli, Bajpe, Moodubidre, Vamanjoor, Kundapura, Belman, Karkala, Kaikamba. Soon there will be outlets at Padubidri and Thokkuttu also.